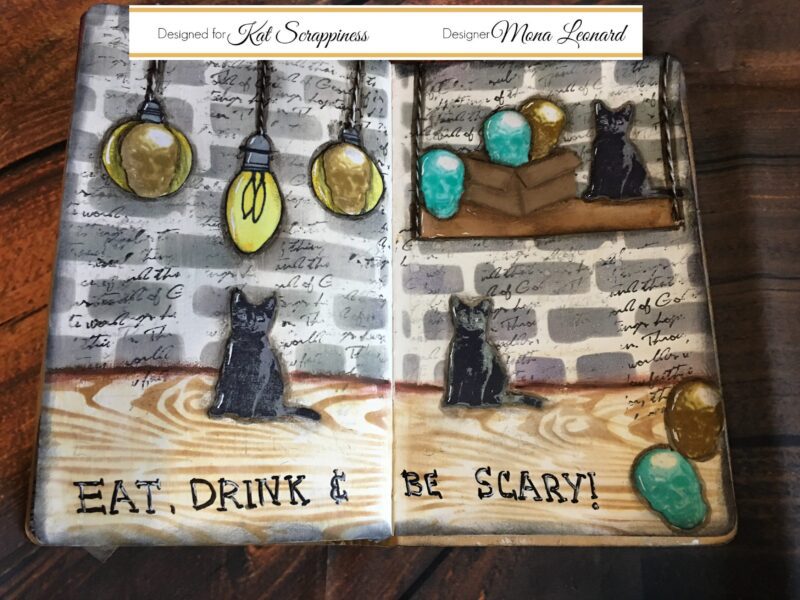 Once my bricks were dry, I used the same stencil brush and a wood grain stencil this time using Tim Holtz
Vintage Photo Distress Oxide
to make the floor.
While all my background is drying I used the toils and trouble stamp set and my
Tim Holtz Stamp platform
to stamp 3 cats in 3 shades of grey then I used the matching Die to cut them out.
Here I did the same thing using the skull stamp one in 3 shades of brown and the other using 3 shades of green. I also Die cut those using the matching die.
Sorry for my messy desk ☺️. This is where I drew 3 light bulbs using a pencil and when I was satisfied I used a black sharpie to trace them. I also used a yellow marker to colour the bulb and a grey for the metal part of it. I then glued everything in place using
Ranger Multi Medium
. Once everything was glued in place I added the twine for the suspended shelf and also for the light bulbs. For the finishing touch, I used my Faber Castell big brush markers to do all the shading and a white gel pen for the highlights.
This concludes my mini tutorial,I hope you enjoyed it. Thanks a lot for stopping by,hope to see you again very soon.